20 April
Returning Control to a Chaotic Supply Chain
Posted by: Josh Bouk
Comments: 0

The Pivotal Role of Connected, End-to-End Visibility in Managing the Unmanageable
Shouldn't we be well beyond the hand wringing and head scratching when it comes to solving the ongoing supply chain hassles, unforeseen hurdles and downright system failures? Shouldn't things be back to normal now? If your answers are yes, and yes, you're not alone. Many in the global supply chain and transportation logistics industries are still watching for the finish line and a re-stabilization of hard-to-find supply amid escalating demand. The truth of the matter, however, is that it's time to bust that myth of a returning normalization just around the corner. The long tail of the pandemic, record global inflation and fuel costs at an all-time high have reshaped the global transportation landscape. Now with the unfolding and uncertain conflict in Ukraine that is also shuttering key east-west intercontinental train, road and air routes as well as the closure of the largest port in China for the second time in two years, one thing is abundantly clear. Disruption, regardless of the cause, is here to stay for the foreseeable future.
Beyond simply accepting that fact, however, action is needed now. It's time to abandon the lingering survival mode strategies of 2020 as well as the roller coaster of reactive strategies that many companies have adopted since then to try and sidestep the next hurdle that comes their way. Uncertainty is certain and every transportation logistics executive needs to adopt a more proactive, planned end game of goals, strategies and the tools and data to achieve them. The pressure to do that is greater than ever. We're way beyond a simply strained global supply chain. Instead, every executive charged with explaining and course correcting around steep budget overages from the past two years, is also now facing mandated requirements for faster shipping, better environmental controls and an overall reduction in cost to serve to do it all.
As these factors and influencers of the new disrupted market continue to evolve and mushroom in the coming months, if not years, the time is now to put new controls in place. What does that look like? We're talking about developing connected, end-to-end visibility – a truly integrated, data-rich oversight of goods in transit and the multitude of variables that impact your performance and your cost.
How - and what - to optimize for success
Traditionally, a business will either optimize transportation logistics (and every other business line action) for either performance or cost. With performance we invest the finite resources, personnel, funding and time into the strategic decisions and technologies that help to guarantee fast, reliable and on-time shipping and deliveries. But the bottom line suffers. When we optimize around cost instead, the opposite happens and we run a tight, efficient fiscal ship that means making tradeoffs. Things like selection of lower cost carriers, longer shipment times and delivery windows, all of which may impact perceived reputation with customers over time. Both optimization strategies have pro's and con's, but which is right for your business or in the moment as market factors continue to flux? Only connected, end-to-end visibility can provide the data-backed answers to make informed decisions that will affect everything from profitability to financial reporting responsibilities and even long term company value.
To create end-to-end visibility it's essential to achieve two things: firstly, a true understanding of the financial flow of your goods around the globe. It's important to not only assess everything from historical cost, to current charges but use that knowledge to more accurately predict and plan for future cost efficiencies. In other words, are we meeting budget and goals or are variables like fuel costs and accessorial charges creating unexpected variances by geography, port or mode? If so, how can we use end-to-end cost visibility to develop operational strategies to mitigate some of these variances? Then secondly, we must gain a real time picture of those goods in transit anywhere in the world, at any time. In other words, which product lines are shipping, by which mode and where are charges creating the biggest negative impact? What is the status of inventory in all warehouses and DC's and can we afford to continue running just-in-time practices or is a shift to just-in-case stocking required? Or which carrier partners and which routes are delivering against plan, and do they need to adapt in any way to improve performance or reduce risk?
Achieving this complete, 360-degree view of goods and cost isn't easy, but it's no longer optional, or a can that can be kicked into next year's budget. Transitioning to this approach is both essential for gaining control in a chaotic landscape, but also for creating a truly informative picture of cost versus performance on a daily, weekly, monthly, quarterly and annual basis for better decision making that then leads to better budget management and peace of mind reporting.
Adopting a dual mindset - embracing a cost and performance view
It's important as market conditions continue to unfold that every transportation logistics executive adopts a dual mindset and an approach that seamlessly embraces both performance management strategies as well as cost control and mitigation measures. Understanding which goods or specialty products may be time-critical, for instance, or require strict carrier handling requirements, versus commodity items that can be shipped with lower cost options, can deliver more choice when planning for guaranteed performance and budgeting for cost.
The first step in this dual process is taking a comprehensive view of how current events, macro factors and evolving market conditions will impact both operational performance and the cost to deliver it.
At the time of writing, fuel is north of $6.00 a gallon in some parts of the United States. Road and air freight rates, which were already high, will rise further. Route closures and challenges will play an increasingly impactful role in driving up further pricing increases and challenging operations. The air routes over Ukraine, once preferred to those of Russia, are effectively unflyable, even if enforcing an official no-fly zone remains uncertain, shifting air freight routes over the North Pole at greater risk and increased cost. Meanwhile the Shenzen Tantian port closure in China will likely produce a bull-whip effect in U.S. ports later in the year. That means new backlogs of containers and ships as well as intensified challenges for trucks getting in and out to keep goods flowing by road. And all of this at a time when carrier availability remains highly constrained and pandemic-era driver shortages continue. Expect increased carrier demand and a price hike accordingly amid climbing global inflation (estimated to be 8.4% just last month) which is rapidly spreading throughout the entire global supply chain. The point is simply this: evolving market conditions will continue to challenge both performance and cost and the only way to manage the impact is to optimize for both versus an either/or strategy.
Creating connected, end-to-end visibility
With 2020 hindsight, excusing the obvious but unintended pun, we all would have enacted these strategic changes as soon as the road started getting rocky two years ago. And while we can continue to dwell on the many variables and factors that have shaped market conditions and challenges, it's important to stop reflecting and act now. This means taking the steps to achieve two things:
Re-imagining Physical Flow Visibility
It's no longer enough to know when your goods left the warehouse on the journey from A to B, or when they arrived. That two dimensional snapshot in time is now table stakes for best-in-class shippers seeking total visibility of the flow of goods in order to make rapid and fluid operational decisions that drive better performance. Those shippers that managed to achieve this over the past two years have been the ones that fared better than others, reacting in near real time to disruption while remaining able to adapt dynamically. More critically, they were also able to stay agile by embracing relatively low-impact technology solutions as opposed to the years-long and cost-intensive revision of global supply chain operations that some companies have considered with little success.
Worldwide powerhouse shippers including General Mills and Nestle are leading the charge to adopt the evolving and advanced technology solutions needed to gain greater, data-driven insights into flow of goods. They're among 500+ enterprise level organizations now using project44(R), the first standard of web enabled communications to the freight industry – and just as importantly, a big step forward in establishing foundational visibility. Project44 works as an Integration Platform as a Service (iPaaS) to instantly connect shippers and 3PLs with real time transportation performance data – a rarity in our current global market. Cloud-based Freight API's also enable a myriad of other real time insights and actions in transportation management. It's a game changing advance in real time, cloud based technology for how the transportation logistics industry must function in these turbulent times and beyond.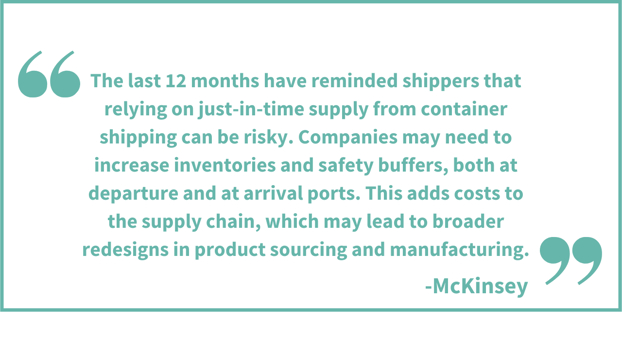 Integrating Financial Flow Visibility
Even with project44 technology, helping you achieve visibility over the worldwide flow of your operation's goods, it's only one half of the required solution to managing difficult conditions.
You've onboarded a technology solution that can pinpoint and determine performance against shipping targets, whether carriers delivered, and where inventory may be in your global transportation network, but that's still a limited view of operational success factors without also building in financial data tracking and analysis that can answer critical questions in challenging times. Did rates escalate beyond plan? Did partners deliver against contracted rates and agreements? Did shipments sit at congested ports accruing additional charges? In some instances, accessorial charges are now making up more of the total cost of net shipping charges. Understanding all of this will help map current challenges and more importantly, plot decisions and choices for improvements going forward.
Adding financial flow visibility across your operations by integrating Transportation Spend Management (TSM) practices alongside technologies like project44 will give you a true perspective of performance measured against cost. Trax is now the first company to combine TSM and project44 platforms for client solutions and with good reason. According to Accenture, since 2020, 75% of companies report negative (or worse) financial impact from transportation challenges driven by supply chain disruption. Another 55% indicate they'll be downgrading their growth plans in the next two years as a direct result of these kinds of factors.
*See The Road Ahead, February 2022 for more on TSM's Role.
The end game - creating resiliency and choice
Visibility for the sake of improved performance and cost management is incredibly helpful, but the real end game for every organization must be creating air-tight resiliency to the external market factors that impede business success. True oversight across all performance metrics and cost factors on an ongoing basis builds a data-driven, organization-wide understanding of which performance enhancement strategies as well as cost mitigation controls deliver better ROI. In other words, the connected visibility to create resiliency to those challenging market conditions, something Gartner calls "the imperative of all supply chain leaders in 2022."
Developing resiliency in this way will give every shipper who adopts these strategies critical armor in the battle ahead: choice. High quality data collected across your operation delivers confidence in, and executive support for, the daily and difficult decisions required to combat challenging market conditions. Things like when to change carriers, more efficient route and mode selection and broader strategies for on- or off-shore business approaches.
Every single organization right now is in problem solving mode. Could there be a different network mix? Better production choices or more diversified distribution? Could materials be sourced locally, or could storage and warehousing changes mitigate cost? If you and your executive team do anything in 2022, put these broad-ranging initiatives to one side. Focus instead on immediate, achievable action. Build and commit to connected, end-to-end visibility across every factor of performance and cost. Doing so won't just create a better understanding of your total cost to serve, it will deliver improved cash flow, greater revenues, and over time, a war chest to protect against whatever lies on the next horizon in the next two years of uncertainty and beyond.