22 November
Why the 4PL, Lead Logistics Provider Matters More Than Ever
Posted by: Chris Cassidy
Comments: 0

The Case for Reconsidering the 4PL in Supply Chain Strategies
Remember when just a log jam sounded bad? Simple times. What the world is now seeing in raw material shortages, unprecedented constraint, backlogged docks and challenged inventory has shone a brilliant spotlight on just how pivotal a role the supply chain plays in virtually every aspect of daily life. So whatever your role from daily logistics operations to financial management of your company, chances are you're dealing with a dangerously full plate, decimated budgets and enormous pressure to perform in the most complex and constrained market ever seen.
We can debate the causes of this global "speedbump" or as an industry embrace the fact that the rules of engagement have changed forever. To effect the kind of efficiencies and operational lift needed to manage current, and build new, business is going to take macro change in our way of thinking and operating. Where should we start re-assessing? Where can the most impactful improvements be made? Top of the list must surely be reconsidering key partnerships and particularly the role the 4PL - a strategic, fully outsourced middleman - can play in your new business model. Here's why – as well as the important questions to ask.
Why a 4PL?
The complexity and challenges of the market continue to evolve and so too must our ability to manage them. Even before 2020 many organizations were beginning to realize that managing day to day logistics operations is incredibly time consuming and increasingly complex especially when it means managing many multiple carriers by specialty, geographic region and mode. Ongoing market challenges have only intensified renewed interest in the 4PL as a strategic service provider and a "middleman" partner to whom all transportation and logistics, warehousing, inventory, order fulfillment operations are fully outsourced. In this way the 4PL becomes responsible for everything including assessing, designing and running all integrated supply chain operations to measuring and reporting to the shipper. The best 4PLs will be capable of understanding a shipper's strategic vision and then making it an efficient, cost-effective reality.
The reasoning for reconsidering the 4PL is sound. Sitting between shippers and carriers, 4PLs have two sides to their business: the buy side (buying and aggregating capacity from carriers and paying for transportation performed by carriers) and the sell side (selling capacity and managing AR with the shippers), giving them a lot of power. The average 4PL offers much needed better rate management and more importantly even, procurement power in a constrained market thanks to their buying of freight capacity in bulk from carriers and 3PLs. Those multi-carrier networks also help optimize freight performance for a shipper, selecting the best carriers by specialty, geographic region or mode, delivering efficiency and helping manage overall transportation spend. As market conditions continue into 2022, the decision comes down to whether to invest more time and finite resources in self-managing 3PLs across import/export lanes and multi-mode operations or make the call to outsource and optimize the entire process.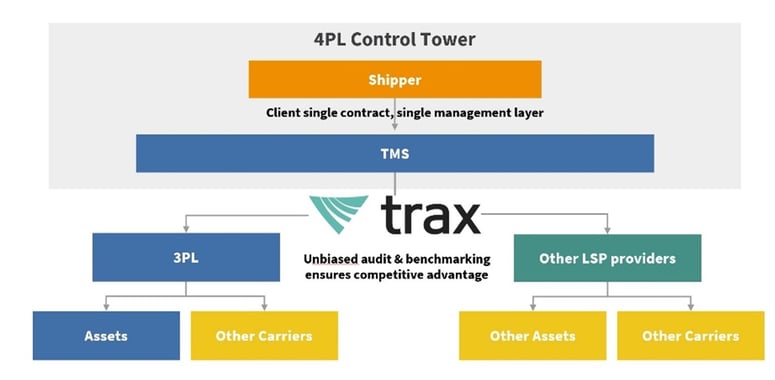 Selecting the Right 4PL- What to Look for
It's a long list when considering the benefits of a 4PL, but there are six key criteria to look for and assess when selecting a possible partner:
Strategic sourcing capabilities – what is their reach? How many 3PL partnerships and carrier relationships can they provide? What is their track record in, and process for, managing carriers?
Single TMS solution – one technology platform providing data collection and analysis for freight optimization, transportation visibility, people and process efficiency, standardized invoicing and payment processing and overall performance managing across the supply chain. ·
Multi-carrier contract reduction and cost management – look for multi-carrier capabilities that can mean fewer contracts for you as a shipper and improved pricing, rate management as well as both carrier selection and monitoring by performance and efficiency.
Expertise-derived from scale – the best 4PLs have broad knowledge and expertise of things like regulatory, compliance and quality SOP guidelines
Processes and protocols for 4PL auditing – not always the case, but your 4PL must have the technology, processes and protocols established, as well as the willingness, to be audited by a third-party external auditing partner (essential for best-in-class operations).
Access to better cash flow: through appropriate payment automation and advanced cash flow management tools and processes, a 4PL can create greater working capital for partners, suppliers, shippers, and themselves. Which makes them more attractive in the market relative to their competition.
Why Not Build Capability In-House?
Well, you could. If you're not concerned about speed or cost. If you're evolving or building an in-house operation and management function for your entire supply chain, you'll need to invest heavily in the appropriate IT system – SAP, Oracle, Mercury Gate, or Blue Yonder to name a few. That sounds like an easy decision but managing the tech selection for any Transportation Management System can be an 18-month proposition with perhaps a timeline of three years to install and fully integrate into your operation. That's assuming a smooth, problem-free install as well as the capacity, resources and time for your internal tech team to manage the day-to-day process. It's not impossible to build an in-house 4PL-like capability but the truth of the matter is that very few organizations have the deep pockets of, say, an Amazon, to finance, or the cross functional capabilities to implement an endeavor of this scale.
How 4PL Auditing is Bringing True Visibility to Partnerships
For a long time, 4PLs carried a stigma of doubt from shippers, due mostly to a lack of visibility once services were outsourced to them. Beyond the standard 5-10 percent markup on operational costs other questions and doubts lingered. Am I really getting the best rates, service and capacity using a 4PL compared to managing it myself? But now with the boom in ecommerce as the key driver of retail sales, and with consumer expectations recalibrated for fast, cheap, same day delivery, the pressures of global logistics management can become too much for many shippers. The 4PLs time to shine may have arrived finally.
That said, the days of "trust me" assurances from 4PLs can no longer be the yardstick by which shippers measure capabilities, capacity and strengths, or the ultimate decision to engage and outsource. It's critical to fully assess and then monitor your 4PL that bears so much responsibility for the daily functioning of your supply chain. Contract with an unbiased Freight Audit & Payment (FAP) or preferably a more comprehensive Transportation Spend Management firm that can put audit processes into play to ensure visibility across the operational, control and compliance to the TMS order fulfillment process. By putting integrated oversight and comprehensive end-to-end management into the hands of your 4PL, and more critically, taking the extra step to monitor performance you can finally be assured of your partner selection decision making and focus on the rest of your business.
4PL Role in Building Trust Between Shipper and Carrier
When a shipper manages carrier relationships, for better or worse, they have their hands on the wheel. They at least feel they have more control over the many day-to-day variables of managing supply chain issues. When a 4PL steps in, a shipper can lose that perceived sense of oversight, but the truth is the 4PL will bring a lot of additional benefits to the process that, in time, will create peace of mind, cost savings and operational efficiencies. As you look to the benefits of outsourcing to a 4PL remember, during your selection process to assess around four key capabilities: technology - a robust single solution platform enabling real-time, data-driven decision making and reporting; specialist expertise and buying power that comes from working at scale across carriers; and the processes in place to allow a trusted FAP or TMS partner to assess all capabilities before you sign on the dotted line.
The benefits of a 4PL can be broken down into two key types: These can be broken down into two key types of benefit:
Compliance
Carrier selection – 4PLs provide shippers with recommendations for 4-5 carriers across a low/high price range helping to prove cost and model estimates
Monitor carrier performance – on time, at port drop off/pick-up and detention times, as well as any delays, quality concerns for shipments or other damages and variables that may be increasing cost. Carrier scorecards are used to determine performance and ultimate cost against estimate, helping determine whether to change carriers.
Vertical staffing – the typical 4PL may have hundreds of staff across many job roles and vertical functions, frequently rotating personnel through roles for a more rounded and highly cross functional workforce.
Data standardization and solutions – 4PL's use data solutions to track fulfillment and monitor compliance to normalized standards and terms that help ensure efficiency from on-the-road operations to invoice accuracy and payment. 4PL's also help guarantee shipment data quality through data certification, data integrity audits, and proactive and continuous data management.
Efficiency
People efficiency – through automated A/P processes, greater rate management in the procurement and auditing processes as well as business intelligence that is easier to source benefiting their customer service, account management and analyst teams
Process efficiency – through stronger cost allocation logic/automation, contract and rate card management, invoice exception management and carrier relationship management (scorecards)
Technology efficiency – through invoice and payment automation, cost driver reporting, analytics, and business intelligence, as well as through new carrier onboarding processes
Invoicing efficiency – freight audit certified invoices on the buy side (between carrier and 4PL) ensures target margins price competitiveness
The Future- Building a Supply Chain Ecosystem
One thing is certain. The global transportation logistics market is only going to get more competitive and more complex. Intense market conditions in the short term will continue to drive the need for operational efficiencies that spur innovation across the board. But longer range, further globalization of the supply chain and all of the challenges and operational variables that brings will create a need for collaboration between companies and providers. Multiple partners and centralized technologies working together in a brand agnostic way to problem solve and create new efficiencies across the supply chain – a NATO alliance of external logistics operators and other specialists if you will.
On that journey to a new borderless, collaborative industry beyond our current challenges, the 4PL that embraces transparency, compliance and total visibility reporting for shippers will be the new industry standard bearer for and very soon the critical first step for every shipper.